What do you think when you see a sign like this?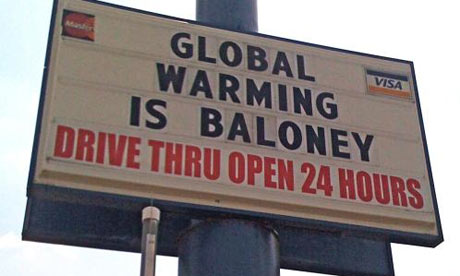 Especially when its in front of a Tennessee Burger King? Chris Davis, a staff writer for the
Memphis Flyer
, noticed these signs outside two local BKs and decided to look into the matter (I want to pat him on the head and say "Good reporter! That's what good reporters do!"), and made some phone calls. The upshot? Burger King's CEO gets it-- John Chidsey has been quoted as saying that climate change is "an overriding issue of importance for the global community, business community and people in general." But the head of Mirabile Investment Corporation apparently doesn't get it--and his company owns more than 40 Burger Kings across Tennessee, Arkansas and Mississippi, as well as a handful of
Popeyes and All In One franchises.And the signs have been showing up in front of his restaurants.
So Leo Hickman has picked this story up in
The Guardian
, and
The Memphis Flyer
has the follow up.
Powered by ScribeFire.